This blog is going to be a bit different than some of the other ones that are primarily technical. I will be sharing some of my own personal experiences in volunteering here in Portland. Then, relating those experiences back to analytics and how that can formulate solutions to help address community problems.
Hunger is a huge problem in the United States. Prior to 2019, more than 37 million people struggled with hunger in the United States, including more than 11 million children. More than half (56%) of food-insecure households participated in at least one of the major federal food assistance program — the Supplemental Nutrition Assistance Program (SNAP, formerly Food Stamps); the National School Lunch Program and the Special Supplemental Nutrition Program for Women, Infants and Children (often called WIC).
Fast forward to the present time and the Coronavirus Pandemic. The numbers become even more inflated. Many families are without stable employment. It is anticipated that more than 54 million people, including 18 million children, may experience hunger in 2020. Specifically, I want to focus on hunger in Portland. Many area food pantries have formed an incredible, cohesive network of support, which brings a whole new perspective and energy to getting the word out and improving the system. The Oregon Food Bank has recruited volunteers, which is the only way demand for the distributions has been met. I have volunteered at the Oregon Food Bank by putting together dry boxes, bagging produce, and sorting out meats for distribution. The Oregon Food Bank has connected me with the Northeast Portland Food Program (NEFP).
Before COVID-19, NEFP averaged around 50,000 clients a year, but between May and September they had already surpassed 300,000 individuals served. NEFP committed to a drive-thru and walk-up distribution which has enabled them to meet the growing needs in the NE Portland community. There are five stations in which we load packages of dry goods, produce, dairy, and meats into vehicles of hungry families. These distribution boxes are essential in helping hungry families survive. One of the primary reasons why I volunteer here is because I belonged to one of these families who suffered from hunger growing up. I know how it feels not to be able to readily get food. My mother never let me starve, but we struggled for a long while. Now that I am in a better position, I want to return the favor not only physically but also intellectually through analytics support.
There are over 10 organizations who come to NEFP for food and supplies to distribute to their specific clientele in NE PDX. This is an important part of our work because it broadens our reach in the community to those who might otherwise slip through the cracks. An example of these organizations is Help for the Houseless, serving 250 houseless individuals, and Project Linkage, serving 30+ immobile elderly individuals.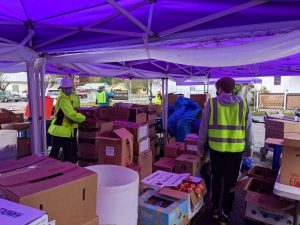 Precision Analytics Group (PAG) has made it a point to bring more exposure to the issue of hunger. We have done this with our work with food banks and United Ways as well as with our partner, Alteryx, where we created a discussion group and trainings for these types of analytics. We use client data to show our clients how well they are doing in certain areas and which areas need more attention. We have done a lot of spatial analytics and donor analytics for our clients. We wanted to do a similar effort for the NEFP.
There are burning questions that NEFP has and the data is there to answer these questions. PAG is committed to helping NEFP answer such questions as:
How many families did we serve for the past week/month/quarter,
How do we publicize food distribution events,
Which family demographics participate in the food pickups,
Which distribution type works better (drive up or appointment only).
This analytics work will be performed as a donation to the community and we would not have it any other way. Everyone has a hand in the solution of fighting hunger. We are hopeful that our analytic work will contribute to public policy addressing hunger.
I want to thank the NE Food Pantry for allowing me to help them out with not just their distribution boxes but organizing their analytics as well. If you would like to learn more about the NE Portland Food Pantry, please check out their website at https://emoregon.org/nefp/ . They are wonderful. This is just one of many food pantries in the countries. Check out some of the food pantries in your community. I am sure that they welcome any help you would be willing to provide.
By Chris Williams
Certified Alteryx Partner
and Tableau Desktop Specialist